Mi-Kf & the Red Ruby designed for the

"MACHINES OF ADVENTURE" from Mike JELINEK
Clara?
Did you already meet Clara??
I will tell you something about her.. 
Clara is a charming and pretty girl of 30 years old.
More than this, she is already an experienced and  mature young woman, sexy and  long lasting as can be. 
This lovely brunette loves enjoying pleasure and  thrills from her life, at her own risks obviously, but this adrenaline is for her the best pulse and energy she requires.
The athletic toll and well shaped girl also likes competition and game, believe me that she is game enough to make you crazy, or mad sometimes.... 
She likes to play, she likes to ride... She loves playing and riding men sometimes, but she definitely loves to ride her special "Bike machine" she has built with her father, and it is with this machine that 
she loves 
to 
play 
the 
most!!!! 
As a fine and sexy rider, she always aims bikers and taunt them on her machine... Anyone can't resist to her feline and aggressive glance... The one which says...Something like... "catch me if you can!!!"
And here you go, it is always a long stubborn and extreme race!!! 
This little tenacious always wins!! Obviously, did you see the bolide she rides?
She is untouchable to the one she doesn't want to touch...And believe me that many colossus would like to catch the pretty provocative.Even more in the aggressive timeline and world we live, it is dangerous anyway, and this is why she is bit arrogant, to fight against her fears...
Even if she has more than one martial art with her, she also needs to carry some other protections!! In all the ways!;-)
I pass the details, maybe some of them are even not legal, but she will never use them attacking, she is self-controlled and still a bit responsible regarding this...
Me...?? If I caught her!??? Ahahah!! yes I did obviously, I love her... 
But not the same way , no.. no the same way... I am her father, her creator.
She is, as simple as a Key, she is the golden key...
But I also call her my "Ruby", my Red Ruby, she is the one who creates shines or spikes wherever she rides, she is a pure blood pressure, she is the pace of life, the one who animates, who gives the energy to go further, she is the target... She is the lovely, but she's also the angry... She is as easy or hard as life... She is simply reflecting the passion and emotion, my Clara, my Ruby, you are like the woman in red in MATRIX!! 
We, fanatic riders, we all dream of you!;-)

You have to be reloaded!!!
Let's go for the ride to life, to death!!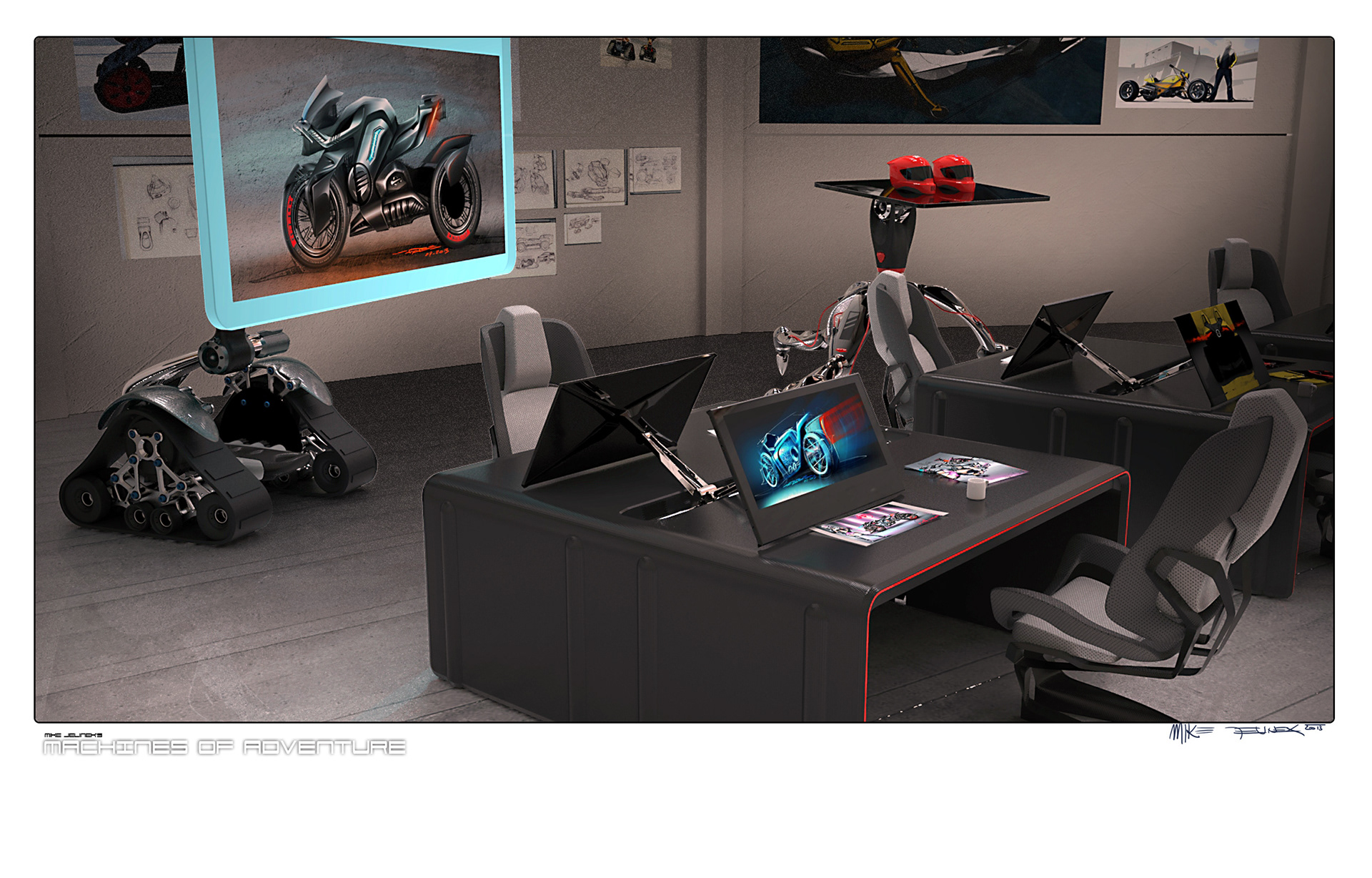 Small Concept and story I have created for Mike JELINEK and his "MACHINES OF ADVENTURES", book that Michal recently unveiled in Pragues. Above one shot of his book, where the Mi-Kf concept study has been realized, seating on the "Ultimate Desk for Designers" created by Olivier MOLODY [Creative director at BMW DesignWorksUSA].